CommTrust - the community trust logo
Identify product reviews & analysis you can trust

The community trust logo identifies non-sponsored & independent product review content on the internet. 
Content must comply with the following to be eligible for the trust logo:
non-sponsored
no money or other compensation in exchange for the content 
vendor independent
creator must not be employed with any of the evaluated vendors
factual analysis
review or evaluation with documented & transparent method, typically 10+ criteria)



The logo helps users easily identify product evaluations based on factual analysis and avoid sponsored articles and endorsed reviews. 
Identify product recommendations you can trust
Check the content with a click of a button
Stamp out scams and discover new trusted products
Point visitors to trusted reviews for your product
Got a new product? Give it credibility and visibility!
Support independent product analysis in the industry.
I'm a vendor - how can I get the logo?
All vendors published on WhatMatrix have successfully passed the qualifying community analysis and are eligible for the trust logo. They can download the logo from their WhatMatrix user profile or contact us Here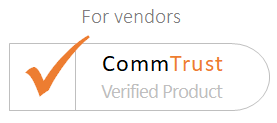 I'm a community consultant - how can I participate?
CommTrust is an open (multi-community) initiative, currently hosted on WhatMatrix.com. The trust logo is open to eligible members of the wider community operating under CommTrust guidelines.
The CommTrust board is currently establishing a simplified process to register, verify and award logos to eligible communities and members. Check back here for updates.
If you believe you comply with the outlined guidelines and want to participate in honest community analysis you can contact CommTrust in the meanwhile here.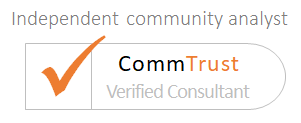 I'm not listed here - can I get this logo?
Please note: The CommTrust logo can NOT be purchased. 
How is the logo enforced?
The logo is self-governed by the community. We believe trust and open collaboration between communities are needed to bring back integrity for IT product recommendations. 
The industry is marked by purchase-able user reviews, sponsored articles and reports (often not identified as such). We want to provide content that users can trust.
How do I need to show the logo?
To be valid, you must show the logo with an active hyperlink (URL) that links directly to the qualifying analysis/review.
You must clearly list the product name & version covered in the analysis (whether as hover, caption or general text comment).
How long is the logo valid?
The CommTrust logo does not expire unless the qualifying analysis / review is removed or the link to it otherwise broken. 
The release of a new major product version (functional update) typically requires re-evaluation. Check the referenced product version and contact us if unsure.