Evaluation Colors
WhatMatrix comparisons use evaluation or "rating colors" to visually indicate how well a feature is supported by each products in a side-to-side comparison.
The meaning is straight forward and explained in the legend shown next to the matrix: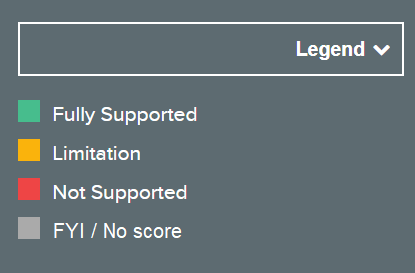 Score pending
Individual fields may be marked "Score pending". That means the feature should be evaluated but no score has been allocated yet for this product. This can be due to missing information or pending reviews. You can use the "Suggest Change" function to suggest the pending information and rating.
All Scores
The color also maps to a score given for each field depending on the rating:
Please note that "grey rows" are typically used to provide complementary information (no score for any product for this feature) i.e. "for your information". If you see individual fields marked as "score pending" then this data is pending or missing – you can use the "suggest change" button to suggest an evaluation color.