Meet the vendor: Commvault
Our community is glad to announce that Commvault has been successfully evaluated under the WhatMatrix Data Protection criteria. "Complete Backup and Recovery" is now available for (free) comparison and enquiries among other industry-leading solutions in this space. Wonder how they rank? Check them out HERE. 
Commvault has been a recognized leader in the data management landscape for over 20 years. Commvault's motto: "The right backup and recovery solution can help you solve hard problems and reimagine your potential – no matter what clouds you're using, no matter what your stack looks like.

The portfolio – complete backup & recovery
Commvault's main product is called Complete Backup & Recovery. And the name says it all, it is intended to be a complete data recovery solution supporting all common deployment environments.
There is broad support for cloud, hypervisors, applications, databases and SaaS applications. There are multiple options to deploy on physical hardware, virtual server, appliances, reference architectures or simply in the public cloud. The suite supports almost any storage hardware for snapshots and replication integration. It also has the ability to use almost any platform to store your backups. Supporting cross-hypervisor restore and replication and built-in test/dev sandboxing even in the public cloud further adds to the value.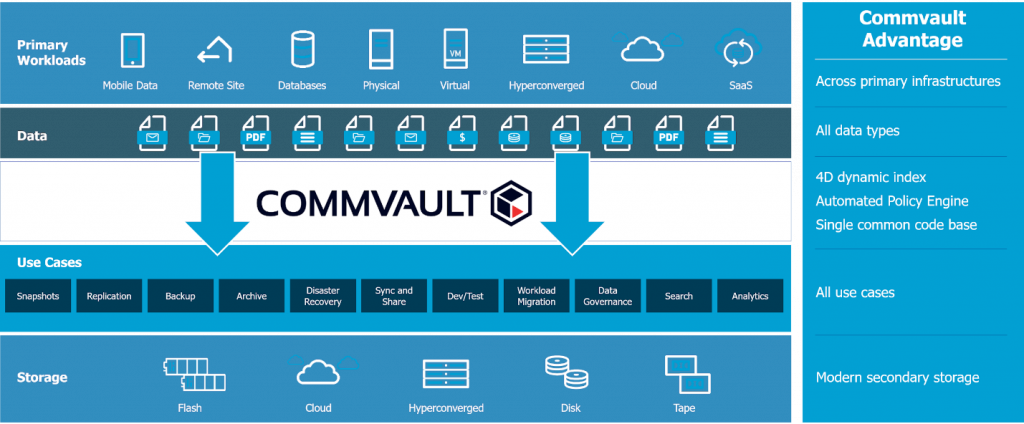 Flexibility and automation
Commvault uses a very intelligent and global deduplication and compression mechanism delivering very efficient usage of any backup storage. To top it all off there is a very 'lean and mean' web-based dashboard for daily operations! If needed the solution can be extended using Commvault Activate or Orchestrate.
Activate
Ready to flip the switch on business outcomes, with maximized data value and minimized risk? Commvault Activate solution's enforced data policy and governance has the unparalleled ability to collect and protect data from across your organization. And did we mention that Activate extends Commvault Complete Backup and Recovery with a layer of analytics, workflows, and pre-built solution accelerators? They allow you to know what data you have, contextualize it, apply rules to it, protect it, and use it.
Orchestrate
Get all your data on the same page. Commvault Orchestrate™ is end-to-end data syncing for faster disaster recovery, dev/test operations and workload migration. Your data, where and when you need it.
Looking ahead
Commvault is evolving with the demands of the industry. In the future we might look closer at their latest entry into the SaaS backup and recovery market with a new solution called Metallic  (which might deserve its own category). It is worth mentioning that Commvault clearly aren't resting on their laurels and have acquired the "Hedvig" software defined storage solution, with a plan to integrate it into their backup offering as a new option – but it is too early to evaluate any resulting capabilities. https://www.commvault.com/hedvig.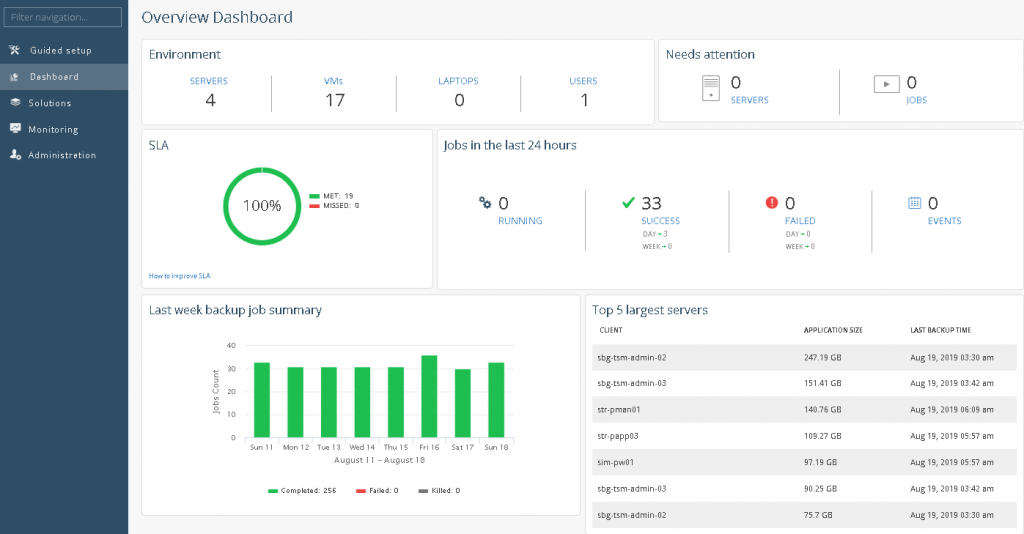 As always, feel fee to provide feedback using the build in change request mechanism in the matrix or in the comment section below and let us know what you think!
Martijn Moret – Community Consultant (Data Recovery)
PS Keep an eye out for the on-boarding / evaluation of additional vendors in preparation for the upcoming Landscape Report for Data Protection in early 2020.
The following two tabs change content below.


Latest posts by Martijn Moret (see all)