WhatMatrix: The coronavirus pandemic has accelerated virtual desktop sales momentum. What are some of the big questions you are being asked to answer from companies shifting to work from home, and how are you answering those questions?
VMware: The pandemic has certainly increased demand for technologies that organizations can use to provide secure access to corporate resources in a remote work environment. Organizations are leaning on VMware and our VMware Horizon platform to help them maintain business continuity because of the remote nature of their work, their secure access requirements, and the deployment options that Horizon provides. The biggest questions companies have as they've shifted to a work from home environment are: How do I embrace this new normal and become more efficient? How do I continue to refine my work from home strategy for the long-term? And how can I leverage the cloud? We are helping answer these questions by providing guidance based on our experience helping hundreds of customers deploy VDI and apps during the pandemic. For example, in March we helped a customer deploy 35,000 virtual desktops in just five days by using one of our IaaS partner clouds. Since then, we've learned how to make the processes even more efficient and are using those findings to help other customers deploy VDI even quicker. Furthermore, we're educating our customers on the various deployment options they have with VMware Horizon and Horizon Cloud, including on-premises, through hybrid cloud, or a multi-cloud strategy.
WhatMatrix: Why do you think VDI has taken this long to really take off? Was the use case driven model too narrow? Was the technology holding it back?
VMware: I think the expectation for VDI to solve all the complexities of desktop and app management were unrealistic when VDI came out 10 years ago. To be fair, VDI was and is well leveraged by many customers, but there were specific use cases customers gravitated towards – security and compliance, centralized management, BYOD, and M&A. VDI also took off in certain verticals such as healthcare, financial services, and education. With the current landscape and focus on remote work, the spotlight is on technologies that help with secure access to remote resources. The pandemic created a perfect storm for VDI to be front and center as the technology that keeps employees productive.
WhatMatrix: With more companies quickly implementing remote PC and work from home initiatives, what kind of security issues should they be aware of?
VMware: Security should always be top of mind, regardless of what technology an organization uses for work from home initiatives. Companies should focus on end-to-end security, not just what's in the data center or what's on a device. From access and authentication, to securing BYO devices, to ensuring transport data and adding layers of security around the firewall such as micro-segmentation and load balancing, these are all topics that should be thought of when designing for employees to remotely access resources. Employees should still continue to practice security 101 in terms of being aware of and reporting on phishing, malware, and other types of attacks.
WhatMatrix: Now that companies have been "pushed" into the deep end of the pool of VDI/DaaS/Remote PC with forced work from home initiatives, do you think things will go back to normal or will they continue to allow some percentage of work from home?
VMware: A customer survey from Dell in April 2020 indicated that even after we go "back to normal" that over 40% of the global workforce will still primarily work from home. I agree with the percentages in this survey. Where we work from is much different than a year ago, when I'd guess 10-20% of the workforce was primarily working from home.
WhatMatrix: Can you explain what your solution or offering does specifically to help with work from home strategies?
VMware: Our VMware Horizon portfolio of solutions provide secure delivery of virtual desktops and apps across the hybrid cloud. Horizon helps IT teams efficiently deploy and scale virtual desktops and apps from a single control plane with rapid provisioning, automation, and simplified management to extend the best digital workspace experience to end users. These elements are critical for use cases like business continuity and remote work or work from home. Quickly provisioning desktops helps customers scale hybrid cloud resources to provide quick access to corporate apps and data, helping respond to events like the current pandemic.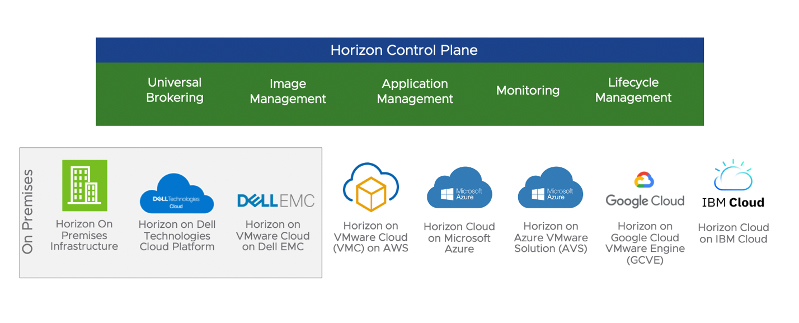 The Horizon platform can deliver virtual desktops and apps through a multitude of deployment options – on-premises, Horizon on Dell Technologies Cloud, Horizon VMware Cloud on AWS, Horizon Cloud on Microsoft Azure, Horizon on Google Cloud VMware Engine, and more.
WhatMatrix: Why should a company choose your solution? What are your differentiators?
VMware: Horizon helps securely deliver virtual desktops and apps based on a modern platform that's built for simplicity and speed. Key differentiators include hybrid delivery, management, and scale based on the private, public, or hybrid cloud deployment of choice. With differentiating technologies that Horizon leverages such as Instant Clones, App Volumes, and Dynamic Environment Manager, IT can take advantage of non-persistent economics with persistent user experience by rapidly provisioning desktops and apps. Built on a trusted foundation of VMware Cloud Foundation or partner solutions such as Microsoft Azure, Horizon also provides end-to-end security as part of the VMware end-user computing portfolio, which includes Workspace ONE. By using Workspace ONE and Horizon together, IT can deliver the best digital workspace experience across all apps, including SaaS, virtual, web, and more.
WhatMatrix: Is your company doing anything specific, outside of selling your solution, to help work from home or the community in general?
VMware: When the pandemic spread earlier this year, VMware immediately put offers in place to help our customers. For example, we extended our trials to include more users and more time. We extended the general support period for vSphere 6.7 until late 2022. We offered online/remote options for certification exams. For the majority of our VMware employees, we were already set up with Workspace ONE so the transition to working from home, from a technology and access standpoint, was seamless.
WhatMatrix: How does your solution address user concerns around data privacy and control over personal data? Can you describe your view on these challenges?
VMware: We take data privacy and control very seriously. As a whole, VMware is transparent about our privacy policy: See Link 
Specifically for Horizon, we have documented how we ensure privacy: See Link and what data is being collected: See Link
This topic is very important to us and we continue to evolve with best practices in data privacy and control.
WhatMatrix: Finally, do you have any advice to a company currently planning or in the process of implementing a VDI or DaaS solution?
VMware: First, educate yourself on the various options you have. VDI and DaaS isn't the same as it was 10, or even 5 years ago. You can leverage the power of the cloud to quickly deploy and simplify management. DaaS is a great option for customers who don't want to worry about managing various layers of the VDI stack. I would also recommend looking at hybrid strategies. Events like the current pandemic shed light on how important it is to ensure you have your use cases covered, from business continuity to disaster recovery, and using the cloud can help you
WhatMatrix : Thanks Sachin, really appreciate you taking time to share your insight with our community. For anyone wanting more infomation on VMware solutions head over to our comprehesive WhatMatrix evaluations on : Desktop as a Service, App Layering and Application Virtualization 
The following two tabs change content below.

David Marshall is an industry recognized virtualization and cloud computing expert, a recipient of the VMware vExpert distinction since day 1, and has been heavily involved in the industry for the past 20+ years. To help solve industry challenges, he co-founded and helped start several successful virtualization software companies such as ProTier, Surgient, Hyper9 and Vertiscale. He also spent a number of years transforming desktop virtualization while at Virtual Bridges. David is an author of two very popular server virtualization books and the Technical Editor on Wiley's "Virtualization for Dummies" and "VMware VI3 for Dummies" books. David authored countless articles for a number of well known technical magazines, including: InfoWorld, Virtual-Strategy and TechTarget. In 2004, he founded the oldest independent virtualization and cloud computing news site, VMblog.com, which he still operates today, and later founded CloudCow.com with a focus on the cloud market.

Latest posts by David Marshall (see all)