Featured image credits go out to Oksano, check out their work here Another part of our popular "What Blockchain for business" series provided by WhatMatrix category consultants MLG Blockchain – visit the comparison here. Genesis – the first major step towards the long term vision for VeChain. This month, the very first block on this chain was created; celebrating the start of Enterprise adoption. This major milestone marks the launch of mainnet, the act of moving off of Ethereum and onto VeChain's very own blockchain. Once genesis occurs, nodes will be activated; producing and validating the transactions submitted within the network. To commemorate the launch of mainnet, VeChain will be added to the "Blockchain for Business" comparison platform. The next few months will dictate if VeChain secures Enterprise and Developer support by delivering on their goals and ambitions.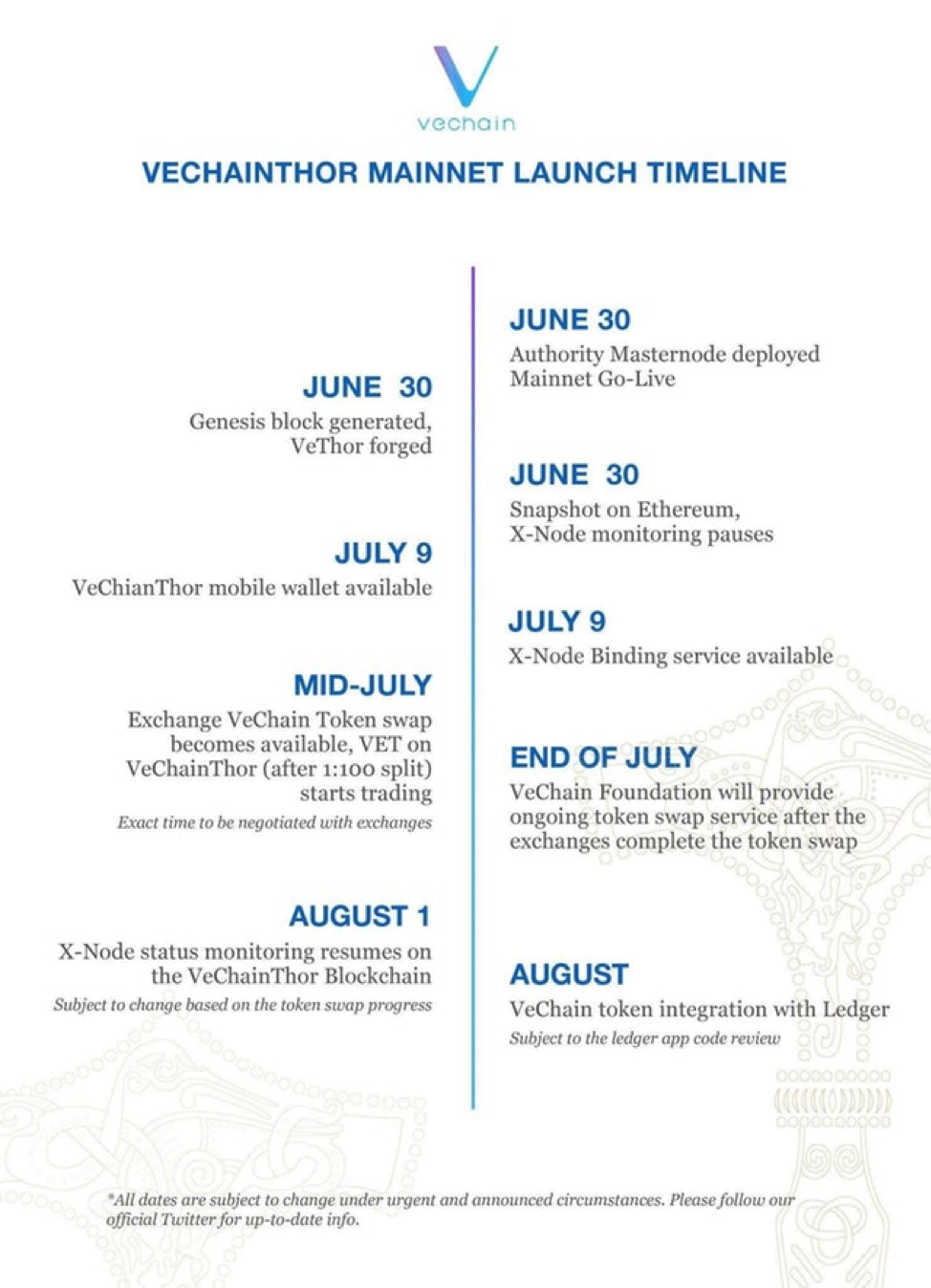 Brief Description
VeChain is an Enterprise focused blockchain platform leveraging Internet of Things hardware and a stable economic and governance model. The vision is to build a trust-free and distributed business ecosystem that enables transparent information flow, efficient collaboration and high-speed value transfers. That statement may be a mouthful, let's break it down:
Governance and Consensus
The VeChain Foundation is a non-profit governing body for the platform. At the helm lies the Board of Steering Committee, a group of cross industry experts and large public investors. Their responsibilities include acting as validator nodes within the network, setting out the critical strategies and appointing the various committee groups.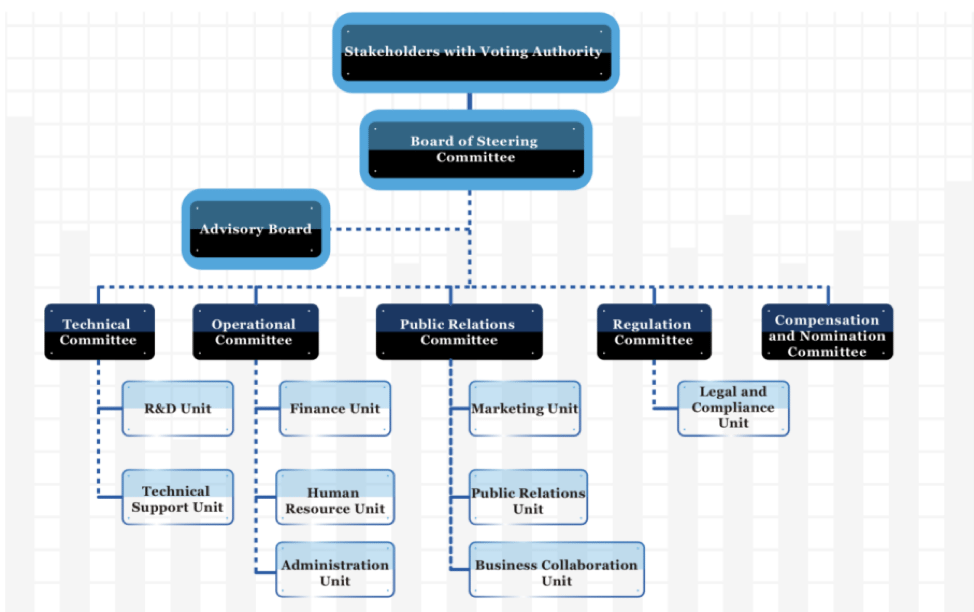 In regards to consensus, Centralization and Complete Decentralization lie on a spectrum. Finding the right balance between the two ends provide the ideal, sustainable mechanism. VeChain believes that Proof of Authority is this common ground. Proof of Authority provides the necessary level of independent actors (101) in order to secure the network from vulnerabilities. By selecting authorized block producers, PoA prevents anonymous parties from producing misinformation that could be spread through the network. Compared to Proof of Stake and Proof of Work, PoA provides a more scalable and efficient mechanism for Enterprise adoption. This is achieved by removing the artificial challenges created such as the bidding process, or computational race that is layered onto the existing validation scheme of incumbents. PoA provides:
Low computational efforts
No minimum number of nodes achieving consensus
A cross section of reliable validators
  Economic Model  VeChain's team has challenged the long term sustainability of current blockchains, due to the association between demand and transaction cost. As a blockchain is used more frequently, so too does the demand for the token. If said token is used to pay transaction fees, then inherently as the token rises in value – the transaction cost rises with it. This market force directly contradicts Enterprise motivation in reducing costs and long term strategic thinking. Businesses want stable, cheap and fast transaction. The solution is twofold; VeChain will run on a two token system. (VET – VeChain Token) will be used to act as "smart money" in the ecosystem, providing market connection to the other coins, and fueling the smart contract creation process. (VTHO – VeThor) will be for paying the transaction costs consumed by using the platform.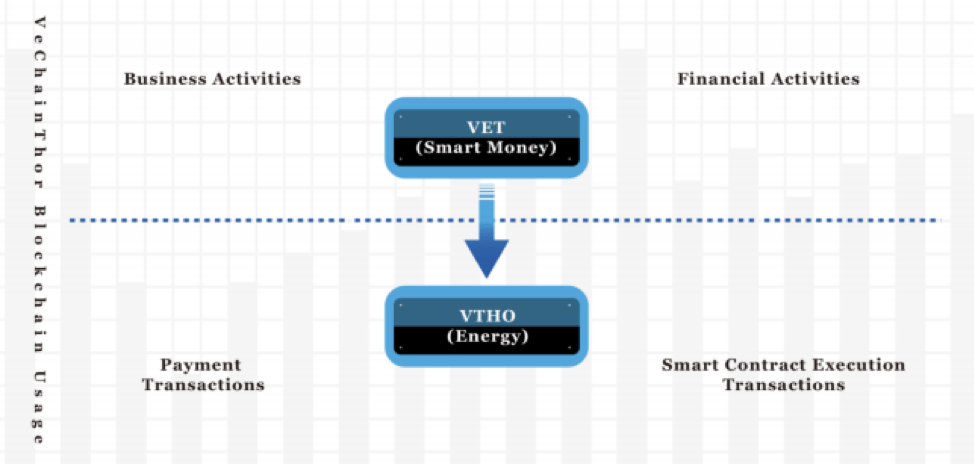 By having one token subject to many market inputs, it decreases the volatility of the secondary coin used to pay the utility cost. As an added stability measure, the VeChain Token will generate VeThor while users hold the tokens. This will further incentivize users to hold their tokens, rather than trading them on the market. For Enterprises acting as Authority Nodes, or using the platform – their utility costs can be mitigated or removed entirely from holding a large sum of VeChain token.
 Partners and Applications

  Since initial release, VeChain has been focused on partnering with world-class companies. Their motive is to create partnerships that will provide net benefit through research and development efforts; creating proof of concept blockchain applications.  Enterprises want more out of a new technology than simply niche application. To drive tangible business value, applications must be use-case driven, results oriented and involve minimal barriers to implement. Creating a flexible platform that will support both legacy systems like SAP, Oracle and future technologies such as IoT, AI, and Big Data paves an easy route to adoption that provides returns in the long run. VeChain provides the network to create the use case driven systems. The layers on top of this network is where the focused applications will be built and managed. VeChain has created template frameworks for adoption including VeVID for KYC identification, VeVOT for voting, and VeSCC for smart contract certification. By doing the heavy lifting in creating the technical protocol, Enterprises will have a much easier time learning and implementing blockchains using a plug and play mentality. Some of the influential partners and use cases are as follows:
DNV GL – Cold Chain Lostistics

Using IoT sensors to monitor and track key metrics while goods are in transit

BMW – Automotive

Digital Passports for vehicles are they interact with different service providers and even track patterns of use.

Fashion – BabyGhost

Tracking the production and sale of luxury goods to eliminate counterfeiting.

Liquor – DIG

Tracking the production, logistics and sale of luxury wines. Embedded RFID verifies the authenticity of the liquid in the bottle.
Future and Scaling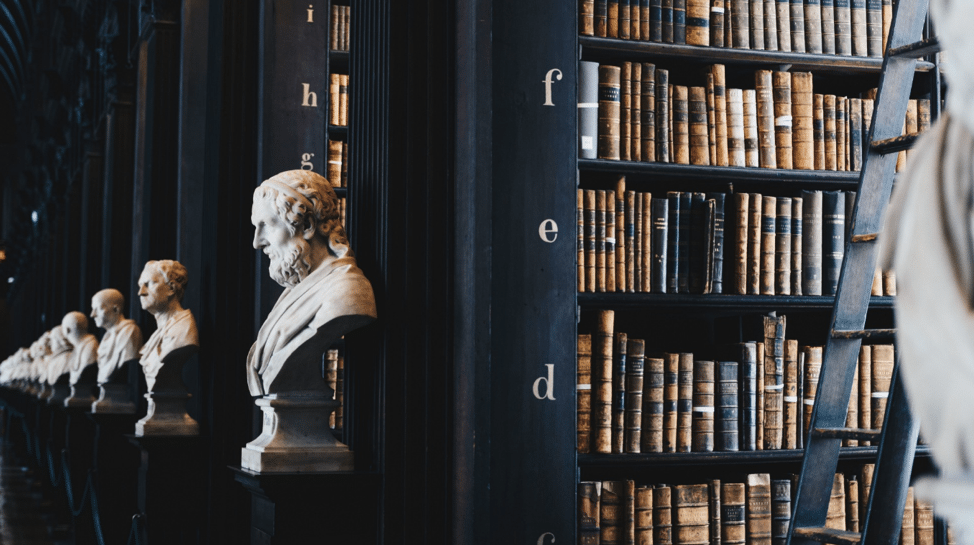 In order to facilitate widespread adoption, the VeChain Foundation created the VeResearch arm. It's goal is to build a global grant program for academic communities to progress blockchain technology. There is an open application process for those interested in championing this new platform. One of the first members to join this initiative was Michigan State – with an area of focus in Mobile Edge computing. As the platform reaches maturity, integration will become the primary focus. On the roadmap lists several dApps, middleware solutions, and SDK's that provide existing companies a much easier time of adopting this new technology.
Closing Remarks
VeChain has a vision for the future, that builds off elements of technological disruption. They have completed the first step in their roadmap by creating a blockchain that addresses the technical barriers this technology has faced so far (Governance, Economic Model, Scalability).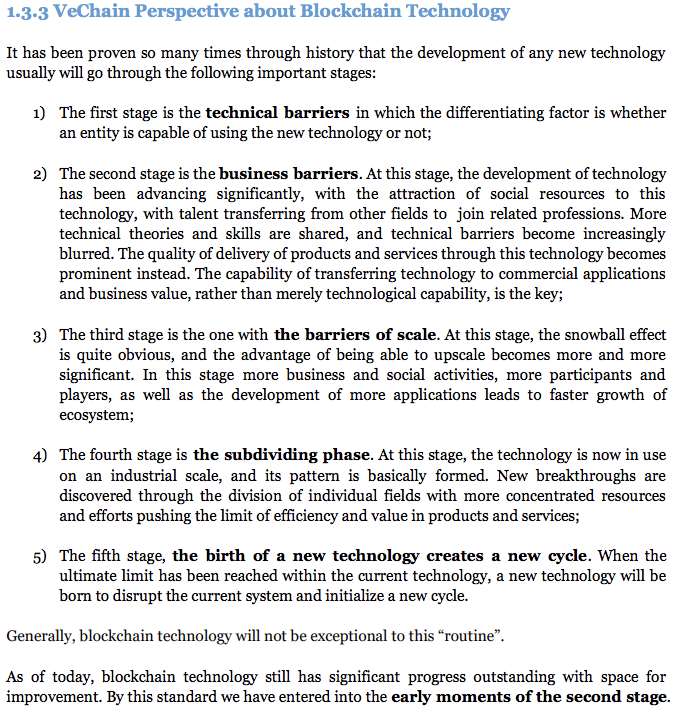 The second phase of their roadmap coincides with my team's current activities within the space. MLG Blockchain's Enterprise arm is actively working alongside Academia, Government and Corporations to create a joint effort of shared talent; in order to identify and implement impactful use cases that will drive tangible business value. We have created a simple framework that Enterprises can follow which will lead to dominence within the space. MLG will work alongside your firm as you embark on this journey. Please reach out to collaborate or subscribe to updates to keep informed and remain ahead of the curve. Jeff Holek – Manager, Enterprise Product, MLG Blockchain WhatMatrix Category Consultant [Blockchain for business]    MLG Services & Contact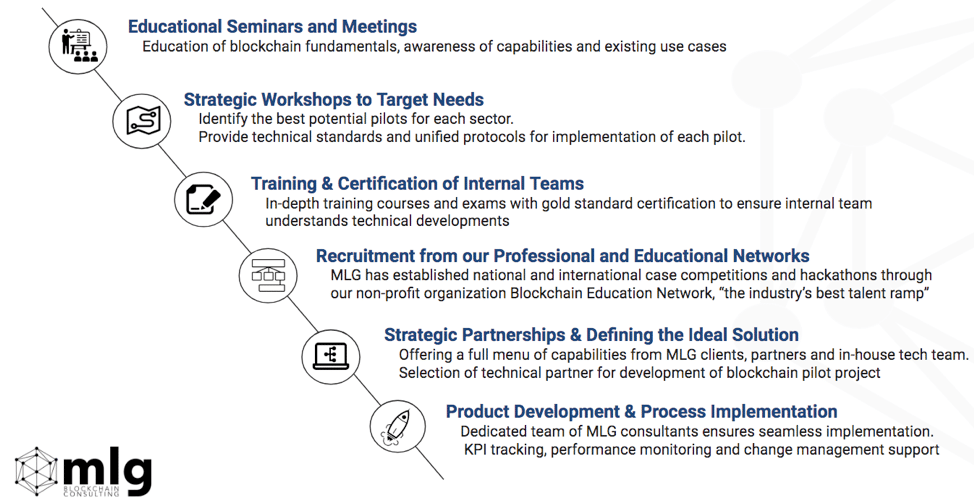 contact: enterprise@mlgblockchain.com
The following two tabs change content below.

Jeff Holek is a product-focused Engineer with a thirst for disruptive technology. Having worked in both product development and technical consultancy spaces, Jeff has not only built world class products, but has marketed and sold them at scale. Jeff was a founding member and judge of the WE Pitch Competition. It's goal was facilitating the culture of Entrepreneurship among University students to provide them with the opportunity and encouragement to pursue their startup ambitions. Within the blockchain space, he is actively working with Academia, Enterprises, and Government in order to drive adoption and understanding on how this transformative technology can impact and address their needs.

Latest posts by Jeff Holek (see all)