Want to be notified of important blockchain updates? Use this Link!
We are currently witnessing a historical and exponential convergence of  groundbreaking technologies. "We won't experience 100 years of progress in the 21st century – it will be more like 20,000 years of progress (at today's rate)" – Ray Kurzweil, Author and Futurist WhatMatrix in collaboration with MLG Blockchain, aims to build the most comprehensive technical comparison platform publicly available. The new category analyzes and ranks major available blockchain platforms, enabling visitors to identify the most appropriate solution for their use case; starting with Ethereum, Hyperledger Sawtooth, IBM Blockchain, R3 Corda, Ripple and Tron. The comparison can be found here. This category will be continually updated to reflect version updates, industry changes, and new incumbents into the space. WhatMatrix and MLG Blockchain encourage the community to provide feedback as this comparison grows. Blockchain and cryptocurrency have been hyped to be game-changers. As a result, many versions have appeared over the last few years – all trying to become the industry standard. With any potential disruptor exists media misinformation, speculation, and fraudulent activity, making it difficult to determine what is true and false. The best way to cut to the truth is to prove that the technology can provide tangible value to existing stakeholders in Enterprise, Academia and Government. Blockchain and cryptocurrencies can leverage new revenue streams, increase efficiency, and apply new communication methods to achieve a competitive advantage.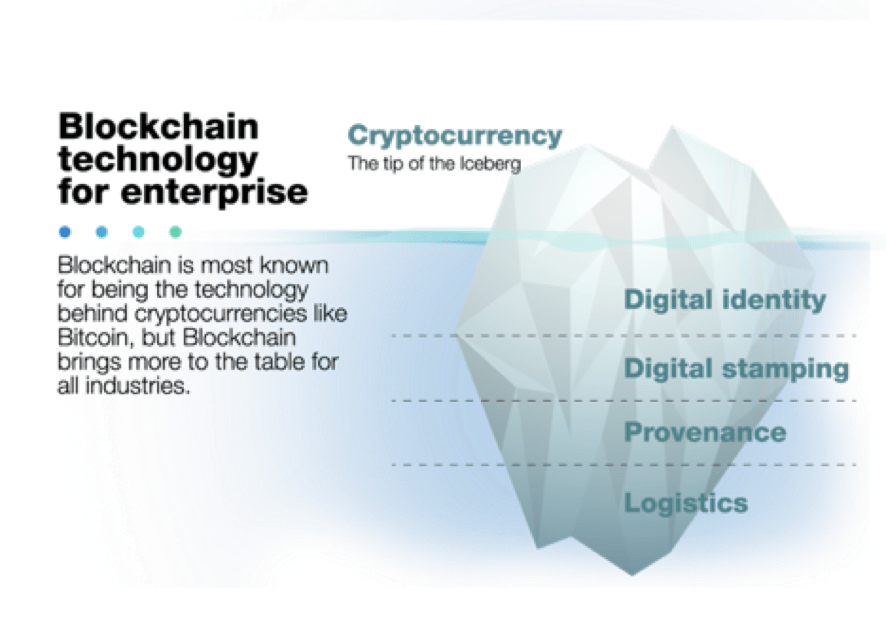 All of this hype started when the anonymous collective known as "Satoshi Nakamoto" released the Bitcoin whitepaper in October 2008. This represented the first tangible application of blockchain technology that we see today. Although technical concepts such as cryptography and digital ledgers were present for decades – the catalyst and pioneer cryptocurrency was Bitcoin; proving a way to prevent any double-spending and recording of transactions between different stakeholders. This is how the "digital gold" of a new public ledger was born. Bitcoin was just the tip of the iceberg. As more interest and support was built around this technology, more tangible use cases arose. Some of the rising stars of this new space include: Ethereum, the "Smart Contract" provider. This blockchain has grown significantly in the last few years as a platform to build and launch nodes on the decentralized web. Most of the spinoff "altcoins" have been launched on this platform in the form of dApps – distributed applications, similar to how an App would launch on the Google Play Store. Ripple, the financially focused protocol. Ripple's goal is to facilitate money transfer globally. They have developed relationships with over 80 banks that use their products, powered by distributed ledgers. Ripple takes a spin on the distributed model by centralizing authority to approved, or known, validators to ensure transaction authenticity. Hyperledger Fabric, an open source Enterprise collaboration with over 150 contributors. Backed by IBM, and created by the Linux Foundation, this blockchain was built from the ground up to cater towards Enterprise and large scale adoption. By making the cryptocurrency aspect optional, and advocating for private permissioned networks, Hyperledger aims to incorporate the strengths of blockchain, without the "open data" concerns a public network brings.
Let's take a look at the underlying system
Information Technology and the Internet have created huge advancements in global communication. However, due to threats like cyber-attacks, regulatory compliance, privacy, and business confidentiality, organizations have become siloed; protecting proprietary information from external parties and giving out limited or incomplete information. This lack of trust has created numerous inefficiencies as multiple organizations must interact collectively when conducting business. Take vehicle ownership for example. Different participants in the value chain all own a unique in-house ledger for the vehicle, which may never interact until being sent to a regulating body where the different datasets contain duplicate or incorrect information. Multiple points of security vulnerability and slow data verification are products of this environment.

Blockchain technology is built on trust; or lack thereof
Blockchain introduces the opportunity to change this lifecycle with a new economic data structure. By introducing a trust-free sharing environment, all parties communicating can ensure a smooth and secure transfer of information. As the digital ledger is shared with all parties in the network, either public or private, permissioned or permissionless, every node has an up to date record of the dataset. In this way, organizations can increase their cash utilization rate and significantly improve transfer efficiencies.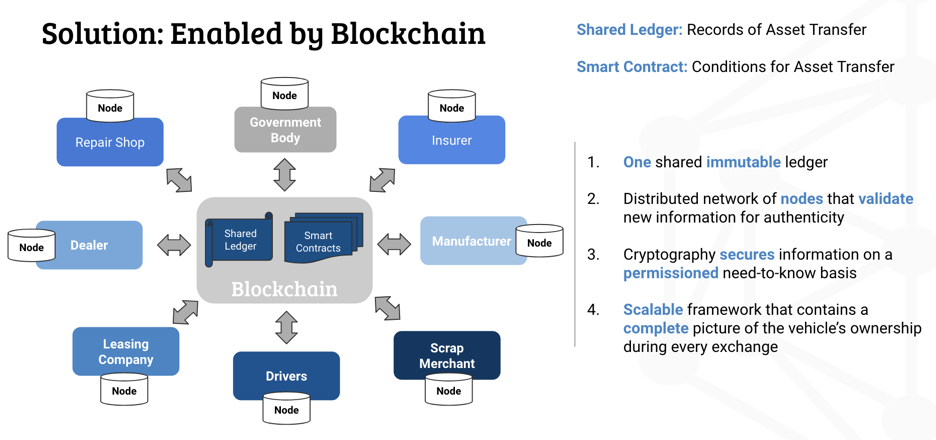 Blockchain fundamentally changes the way that data is structured and communicated. When new data is recorded to the shared ledger, the publishing node needs to broadcast the changes to all other nodes in the system. Depending on how the network reaches consensus, the remaining nodes may perform a computational race (Proof of Work), a vote (Proof of Authority) or even a wager of ownership (Proof of Stake). Once the network ensures validity of the new record, it is then added onto the previous record of data. This new ledger is then pushed out to all nodes in the network, adding a block to the blockchain.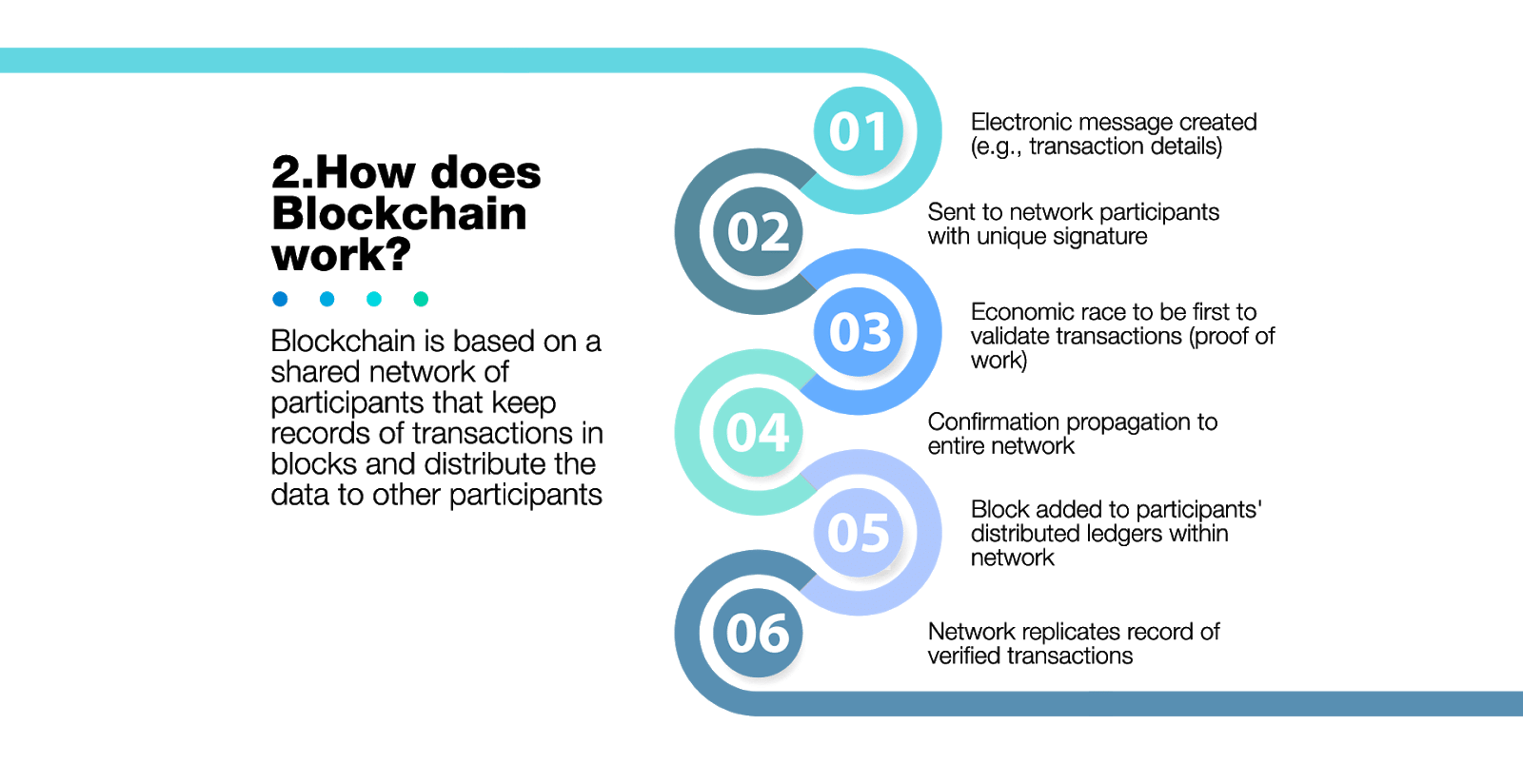 Over the next few posts, which will be accompanied by a comparison update, specific use cases and industry effects will be explored. As the community gains more awareness and understanding of the space, it is encouraged to start discussions regarding tangible applications and proof of concepts that have had success and gained traction in the market. To be notified whenever this comparison category is updated, please sign up for the e-newsletter: link Have further questions on how these technologies can directly impact your business?

MLG Blockchain provides Enterprise-focused advisory and analysis, in order to help decide if Blockchain is right for your Organization. We offer:
Corporate Blockchain Education Sessions

Strategic Workshops to Target Business Impact

Implementation Assistance

Customized Blockchain Development

Blockchain Talent Recruitment
Jeff Holek / MLG Blockchain Consulting – WhatMatrix Category Consultant [Blockchain for Business]
The following two tabs change content below.

Jeff Holek is a product-focused Engineer with a thirst for disruptive technology. Having worked in both product development and technical consultancy spaces, Jeff has not only built world class products, but has marketed and sold them at scale. Jeff was a founding member and judge of the WE Pitch Competition. It's goal was facilitating the culture of Entrepreneurship among University students to provide them with the opportunity and encouragement to pursue their startup ambitions. Within the blockchain space, he is actively working with Academia, Enterprises, and Government in order to drive adoption and understanding on how this transformative technology can impact and address their needs.

Latest posts by Jeff Holek (see all)