Today we have published the latest updates to the Cisco CloudCenter evaluation, reflecting the most recent capabilities of its 4.8.x release. It is also the first product evaluation that we publicly disclose after our CMP taxonomy update documented in detail here.
Cisco CloudCenter has made significant progress since the acquisition of CliQr almost exactly 18 months ago – broadening the scope of workloads that can be managed by CloudCenter, extending what users can do via self-service actions, improving both user self-service capabilities and central IT control.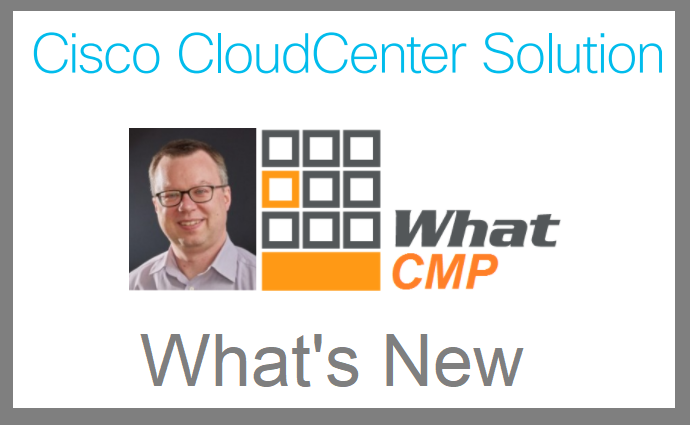 Cisco managed to decrease the gap to the the highest scoring product to a 10% window in our latest evaluation, underlining the increase in capability as well as the increasing maturity of CMP market itself.
In order to reflect the evolving capabilities of the CMP landscape the WhatMatrix team reviewed and incorporated extensive community feedback from various sources and updated the entire taxonomy for the CMP evaluation structure. We want to thank all involved for their help (users, consultants and vendors alike!) – you can review all changes to the agnostic evaluation criteria in detail here.
Looking ahead … what's to come in 4.8.2?
One forward-looking 'nugget' for our curious readers – Cisco is about to release version 4.8.2. of CloudCenter … what can you look forward to?
The new version will support IPv6, has capacity management features, a new ServiceNow integration (which includes updating the CMDB), and the ability to create a policy to automatically suspend applications during non-working hours, then turn them back on before working hours – nice!
In addition, Cisco has just concluded some massive scalability and performance testing in their private clouds and in AWS where they:
1. were able to successfully deploy massive deployments (1000 workload nodes) in under an hour
2. run over 18,000 creation/destruction runs in 15 hours, through a churn test–with Zero failed deployments
Impressive …
What's New with 4.8.1
This is a list of of added capabilities in 4.8.1 – if you haven't reviewed the updates with 4.8 check this article out first.
vCD & Google Cloud

Brownfield VMs can now be imported from VMware vCD to for management from the CloudCenter platform.
Additional support for VM Actions Attach Volume and Detach Volume.
Support for the vmnaming and ipam callouts
Multiple NIC support allows you to specify the number of NICs to assign to the VM by adding the number in the image definition.

(Google Cloud only): Google cloud instances display one of the following values for the volume Type attribute: Standard Persistent Disk, SSD Persistent Disk, and Local SSD Scratch disk. See Multiple Volumes for additional context.

Azure RM:

Additional support for Microsoft Azure Government regions (US Gov Iowa/Virginia)
The CloudCenter platform does not support managed disk and custom images for these regions.

New Images provided by Cisco: Application VM (worker) images:

Windows 2016 support for AWS, VMware, AzureRM, OpenStack and SoftLayer.
Ubuntu 14 support for VMware and OpenStack.
Above are only the major enhancements (Cloud interoperability and functionality), see all details in the release notes here magyargenerikus.com.
There was also a 4.8.1.1 maintenance update released in Sep (no significant new functionality enhancements)
We also want to take the opportunity to give a specific shout-out to Zack Kielich from Cisco for not only challenging us in various places but engaging in discussions that ultimately helped us to harden our evaluation criteria and fine-tune our agnostic evaluation method! Outstanding – thank you!
Want to see the new functionality added in 4.8 in action? Check out Zack's demo highlights video here:
WhatMatrix Product Consultant – Ronald Van Vugt
WhatMatrix Category Consultant – Ephraim Baron
The following two tabs change content below.


Latest posts by Ronald van Vugt (see all)