With new evaluation criteria added to our Cloud Management Platform (CMP) comparison at WhatMatrix, it was time to (re)evaluate the latest versions of the different CMP solutions that are included in the comparision. Recently VMware released vRealize Suite 2017, that includes the latest version of the four products that make up this suite. vRealize Suite 2017 is now included in the CMP comparison and ranked at #2! In this article I will have a closer look at vRealize Suite and I will look into some of the latest updates to the suite in more detail.
vRealize Suite, more than a CMP?
VMware vRealize Suite is not just one product but a suite of products that make up VMware's Cloud Management Platform. vRealize Suite 2017 consists of:
If we look at the evaluation critera in our comparison, I think around 90% of the CMP functionality is provided by vRealize Automation, Orchestrator and Business. The remaining 10% is filled by vRealize Operations and LogInsight.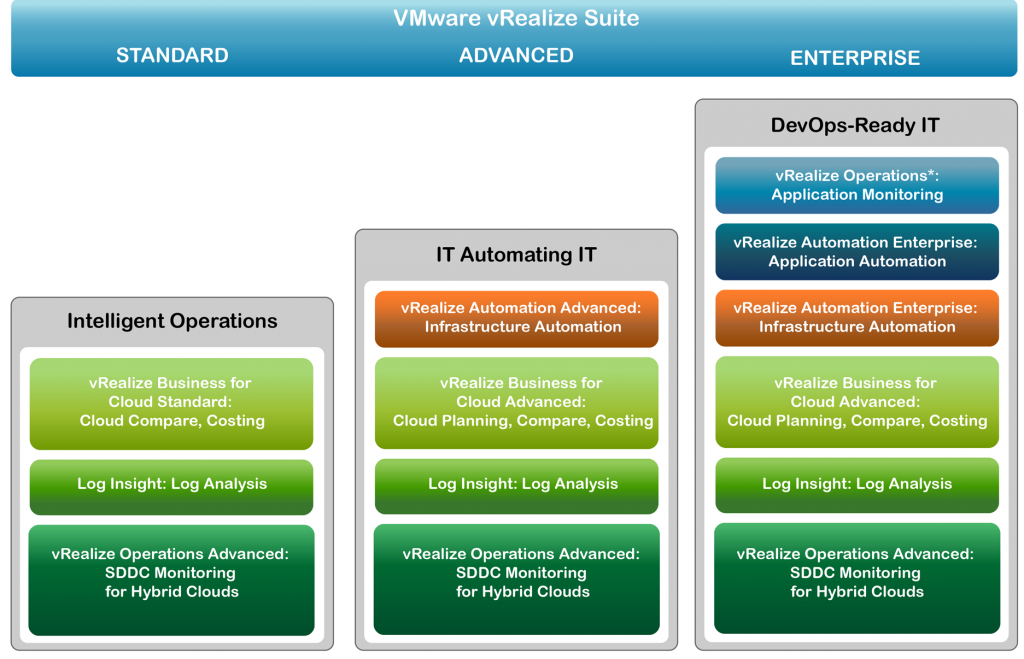 vRealize Operations and LogInsight are more focussed on operations management. vRealize Operations provides extensive, customizable dashboards that display insight information on the different facets of your private- and/or public cloud. LogInsight is a Splunk like solution and capable to do intelligent log analysis and correlation.
The licensing model reflects the different use-cases for VMware's vRealize Suite. The suite comes in three versions, that are Standard, Advanced and Enterprise. The Standard version is focussed on operations management (with vRealize Operations and LogInsight), Advanced and Enterprise include all four products that make up the CMP. Only vRealize Suite Advanced and Enterprise are currently in the WhatMatrix CMP comparison. The difference between these two is that Advanced is focussed on managing, automating and monitoring everything in the infrastructure layer. vRealize Suite Enterprise adds management, automation and monitoring for the application layer to the suite. If you want to learn more about licensing I suggest you to read a blogpost that I recently posted on my personal blog: Claifying vRealize Suite licensing.
vRealize Suite 2017 – What's new?
vRealize Suite 2017 contains the latest versions of all the products that are in the suite. Let's have a closer look on what's new in vRealize Suite 2017.
Improved container support
vRealize Suite comes with improved container support based on VMware's Admiral engine. Admiral is a scalable and lightweight container management platform and integral part of vRealize Automation. Currently Admiral only supports the Docker engine. Other container management platforms like Kubernetes are currently not supported by Admiral and/or vRealize Automation.
Improved Azure support
Microsoft Azure is supported as a native endpoint since vRealize Automation 7.2. A shortcoming of this endpoint was the lack of support for automated application deployment leveraging application services. With the latest update to vRealize Automation/Suite application deployment is now supported for virtual machines deployed through the Azure endpoint.
vRealize Operations now uses the clarity interface
With version 6.6 vRealize Operations now supports the Clarity interface. Project Clarity is an open source design system that brings together UX guidelines, an HTML/CSS framework, and Angular components. Most of VMware's management interfaces are based on clarity, since 6.6 vRealize Operations also leverages this design system.
Improved NSX support
The integration options for NSX, VMware's Software Defined Networking solution, with the vRealize Suite improved in the 2017 version. More (almost all) NSX components can now be managed, configured and inserted into blueprint in the vRealize Automation design canvas.
vRealize Suite, only for managing VMware solutions?
Certainly not! But, from my personal experience…Most customers have a VMware vSphere installed base and choose for vRealize Suite as a next step in their cloud/virtualization journey. Next to VMware vSphere, vRealize Automation for example supports Microsoft Hyper-V/SCVMM, Amazon EC2, Azure Virtual Machines, OpenStack deployments and more. For a full overview check the vRealize Automation Support Matrix.
On top of this vRealize Automation & Orchestration, the core solutions for the CMP functionality, offer integrations for a broad variety of solutions. Some integrations are available OOTB (for example with InfoBlox or Active Directory), others require a plugin or in some cases some (custom) workflow development. Plugins are provided by VMware, 3rd party companies or the community. Plugins are sometimes available for free and sometimes paid. All different options are included in the comparison, however we choose to evaluate a certain feature as "not supported" if a paid plugin is required. At the end, the functionality is not supported by the product without extra cost. For an overview of available plugins for vRealize Automation and Orchestrator check VMware's marketplace at marketplace.vmware.com. The marketplace is also the resource where your find management packs and content packs for vRealize Operations and LogInsight. With these packs you can extent these solutions with support for a variety of 3rd party platforms and solutions.
For now I hope I've provided you with some background info on vRealize Suite 2017! Don't wait now, and go straight to the Cloud Management Platform comparison to see how vRealize Suite and the other solutions compare.
Viktor van den Berg – WhatMatrix Community Consultant (CMP) 
The following two tabs change content below.


Latest posts by Viktor van den Berg (see all)