[block]0[/block]
Today we announce the addition of Vembu to the 'What Backup' comparison, allowing you to explore & compare Vembu's BDR Suite with other backup solution.
For those wondering whether Vembu is a new player in Backup & DR market – they've actually been in the business for over 12 years (although operating under a different business model).
Vembu aims to provide 'enterprise-like' features to smaller & medium businesses at an attractive price point!
So what sets Vembu apart… ? Vembu's declared strategy and goal is to provide 'enterprise-like' features to smaller & medium businesses at an attractive price point … a simple but powerful proposal.
Vembu's flagship offering, Vembu BDR Suite, has the ability to provide Backup & DR solutions to customers operating in sophisticated data-centres as well as businesses that cannot afford a data-centre, aiming to cater for diverse technical environments including physical, virtual, applications and endpoints.

Backup & DR for Virtualized environments:
Vembu VMBackup (part of Vembu BDR Suite) provides agent-less backups for VMware vSphere and Microsoft Hyper-V environments with an RTO & RPO of less than 15 minutes. With its focus on increasing business availability in various environments, VMBackup provides multiple useful recovery options like Quick VM recovery, Entire VM recovery, Instant File-level recovery, alongside its VMware vSphere Backup & Microsoft Hyper-V Backup mechanism.
Additionally, VembuHive, a 'file system of file systems' offers efficient backup storage.
At it's core VMBackup has been designed with a simple UI, making it an easy-to-use and affordable product. For customers with "off-site" backup requirements, VMBackup also provides option of sending the backup data to a secondary datacenter or the Vembu Cloud for data redundancy and DR.
Backup & DR for Physical Servers:
Vembu ImageBackup (part of Vembu BDR Suite) provides backup for the entire disk image of Windows Servers, Desktops and Laptops including operating system, applications and files – providing an effective backup and DR approach for Windows IT environments. Bare-metal recovery enables the recovery of the backed up Windows machines on to the same or even different hardware. Additionally it can initiate instant recovery of a complete Windows IT Environment which includes Windows Servers, Desktops and Laptops with built-in P2V support (interestingly, Vembu includes full image backup of Windows desktops and laptops at no additional cost in the BDR suite!)
File, Application, Endpoints, SaaS applications backup, cloud storage & much more:
Vembu NetworkBackup (part of Vembu BDR Suite), also designed for small & medium businesses, protects their critical data across file servers, application servers, workstations and other endpoints in Windows & Linux environments. Vembu offers NetworkBackup at no additional cost, for end points that include Windows Desktops, Laptops and Mac.
Vembu OnlineBackup (part of Vembu BDR Suite) provides File Server, Exchange, SQL, SharePoint & Outlook Backups directly to Vembu's secure cloud using enterprise-grade AES 256-bit encryption with granular restores.
Vembu SaaSBackup is designed for backing up the Mails, Drives, Calendar and Contacts of your Office 365 and Google Apps and provide immediate recovery with simple & effective UI.
'All in one' Backup & DR solution
With its focus on providing enterprise features to the masses at an affordable price point, we consider Vembu "one to watch" in the backup and DR space.  In our view Vembu's BDR Suite provides flexible backup and DR options to customers with diverse environments and – critically – varying budgets.  Especially if you are operating in a Hyper-V or VMware environment we would only encourage you to evaluate Vembu against your requirements … but why don't you have a look yourself in our draft comparison HERE.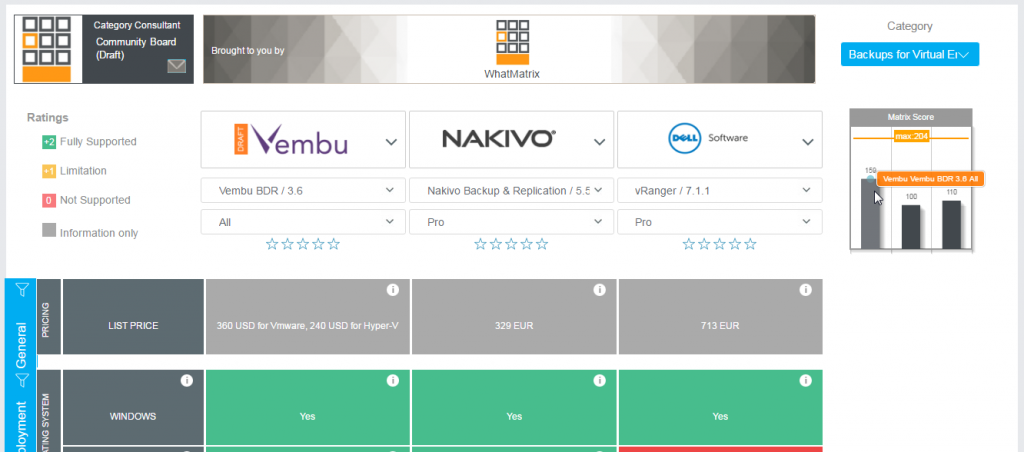 Enjoy the comparison!
Your WhatMatrix Community
The following two tabs change content below.

Open community of consultants and analysts, providing independent views on IT trends and products - free, trusted analysis from the community, for the community ...

Latest posts by Community Author (see all)