Unmatched Technical Depth!
*Number of features evaluated on WhatMatrix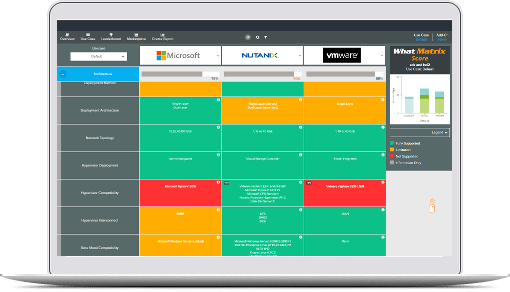 Find the best product for your next IT project
Trusted analysis from independent industry experts
"WhatMatrix helps companies make informed decisions and their rigorous, unbiased analysis of vendor offerings is an incentive to keep innovating."
Sushant Rao
"Publishing the Disaster Recovery comparison on WhatMatrix has helped me establish invaluable new contacts in the industry!"
Viktor van den Berg
Get Started! (in 1min)
Find the best IT solution for your business (self-service & free)
Industry-unique Trust Model
Named independent experts + open community curation
Technical Credibility
In-depth evaluations, no biased vendor submissions or user reviews
No "Pay to Play"
Free product listings, comparison-access and reports
and what we can do for you

Get trusted expert advise (free)
Justify your product decisions!
Validate your solution & identify issues!

Showcase your expertise
Connect with new vendors & customers
Expand your community reach

Promote your product (publish)
Connect with customers & consultants
Generate leads & promote assets
Lead category consultants
All comparisons on WhatMatrix are published by named, independent community consultants
These are the community experts that openly share their technical insight with you
Click to view or get in touch
(Visited 2,004 times, 33 visits today)