We're glad to announce a major update to the 'Virtualization Platform' comparison. VMware has been updated with the latest vSphere 6.5  features set and the available product editions have been adjusted accordingly.
Compare it now here: https://www.whatmatrix.com/comparison/Virtualization.  
Also keep your eyes peeled for another (soon to come) update: Hyper-V Virtualization in Windows Server 2016!
This has arguably not been an easy year for VMware with the dynamics of the Dell / EMC merger, vCloudAir (rightly) getting bad press and VMworld feeling (for the first time) a little "old school".
On the other hand announcements with Amazon and IBM showed the longer-term demand for VMware-based "hybrid" architectures and underlined the reality of strong dependencies in enterprise and service provider ecosystems.
There is a massive amount of existing investment in 'VMware technology' (staff, assets, process), VMware's storage and network virtualization technologies (VSAN, NSX) resonate well and AWS's (at least partial) success of pushing OpenStack into a Telco "niche" has shown that "proprietary" does NOT automatically equal 'death' … so it's clearly not all doom & gloom for VMware.

vSphere 6.5 has been released with a wealth of new features alongside updated versions of VMware vSAN 6.5, VMware vRealize Log Insight 4 and VMware vRealize Operations 6.4..
While we'll list a summary of all enhancements, focus and most prominent changes have been around:
user experience: streamlined architecture, rest-based APIs, HTML5-based GUI
security: Secure Data, Infrastructure and Access (encryption)
Universal app platform: vSphere Integrated Containers
Workload management: vSphere Predictive DRS, predictive analytics provided by vRealize Operations
What's new in vSPhere 6.5 (details):
vCenter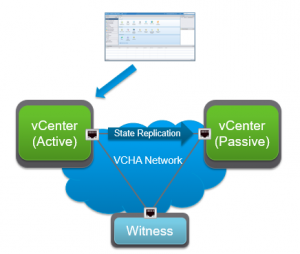 With vSphere 6.5, the vCenter Server Appliance has surpassed the Windows installable version, offering the following (exclusive) features:
Migration Tool
Improved appliance management
Native high availability
Native backup and restore
There are also general improvements to vCenter Server 6.5, including the vSphere Web Client and the supported HTML5-based vSphere Client.
vSphere Host Lifecycle Management Enhancements
vSphere Update Manager

fully integrated with vCA (eliminates additional resources required for another vm, OS license, and DB)
Use UM to update VMware Tools and Virtual Hardware
Previous Windows-Based Architecture Still Offered

Host Profiles

Profile Management Improvements (updated graphical editor with easy-to-use search function)
Operational Enhancements (detailed, side-by-side comparison of values from a profile versus the actual values on a host)

Auto Deploy

Manageability Improvements (full-featured graphical interface, new 'Deployed Hosts' interface tab)
Performance and Resiliency Enhancements (Auto Deploy can now accommodate many times more concurrently booting hosts)

VMware Tools 10.1 and 10.0.12

Signed ISO Images
Bifurcation of VMware Tools for Legacy and Current Guests
Bundling of Tools for Most Popular Guests Only  (other guests are available for download)
Guest OS Granularity Increase (there are now two ISO images for certain families of guest OSs, to accommodate the above bifurcation)
Detailed Display of VMware Tools Type and Version in vSphere Web Client
Improved Detection of Availability of Updated VMware Tools Installers

vSphere Operations

Operations Management (update includes new dashboards, new view for each object)
Log Monitoring (contains UI based on the new Clarity UI, increased API functionality)

Developer and Automation Interfaces

Application Program Interfaces (new extensions to its REST-based API e.g. ability to manage Content Library and tagging, ability to manage and configure vCSA and enables basic VM management)
vCenter Server Appliance API (new and simplified REST-based API)
Virtual Machine API ( create, update or delete VMs; set their power state; and work with the hardware. Hardware tasks include connecting the CD-ROM, updating the RAM allotment, adding a network adapter, removing a hard disk)
Discover the APIs with the New API Explorer
Process Improvements (provides several out-of-the-box developer- and automation-based tool integrations).
Command-Line Interfaces (vSphere CLI has received updates to both ESXCLI and DCLI commands. ESXCLI now features several new storage-based commands that handle VMware Virtual SAN core dump procedures, utilizing Virtual SAN iSCSI functionality, managing NVMe devices, and other core storage commands)

VMware PowerCLI – VMware PowerCLI in this release is completely module based.
Security

Virtual Machine Encryption (occurs at the hypervisor level and not in the VM, works with any guest OS and datastore type)
Encrypted vMotion (on a per-VM basis, encrypts the data traveling over the network rather than encrypting the network itself)

Secure Boot Support

Virtual Machine Secure Boot (Virtual machines must be booted from the EFI firmware to enable Secure Boot)
ESXi Host Secure Boot (UEFI firmware validates the digitally signed kernel of an OS against a digital certificate stored in the UEFI)

Enhanced Logging (audit-quality logging)

VM Sandboxing (operational "sandbox" with strict controls as to hypervisor capabilities available to them)
Automation (VM Encryption, Encrypted vMotion, and enabling Secure Boot for Virtual Machines are all fully automatable using common IT tools such as VMware PowerCLI, VMware vRealize Automation, and the vSphere API directly)

vSphere 6.5 Availability Enhancements

Proactive HA (integrates with select hardware partners to detect degraded components and evacuate VMs from affected vSphere hosts)
VMware vSphere High Availability Orchestrated Restart (improves the recoverability of applications that run across multiple VMs)
vSphere HA Admission Control Improvements (default admission control policy is 'Cluster Resource Percentage')
VMware vSphere Fault Tolerance ( improves the integration with vSphere DRS to enable better placement decisions by ranking the hosts based on the available network bandwidth and by recommending the datastore in which to place the secondary VMDK files)

Resource Management Enhancements

Improved vSphere DRS Load Balancing Algorithm (in addition to standard deviation, vSphere DRS calculates the difference between the most utilized and least utilized host)
Sphere DRS Additional Options (VM distribution, Memory metric for load balancing, CPU overcommitment)
Network-Aware vSphere DRS (monitors the Tx and Rx rates of the connected physical uplinks and avoids placing VMs on hosts that are considered network saturated e.g. 80%)
VMware vSphere Storage I/O Control Using Storage Policy Based Management (now set via the SPBM framework)
Content Library (mount an ISO directly from the Content Library, apply a guest OS customization specification during VM deployment, and update existing templates)

vSphere Integrated Containers – enables IT to provide their app teams with a Docker-compatible interface that runs on the existing vSphere infrastructure 
Sphere 6.5 Storage Enhancements

Advanced Format Drives and 512e Mode (standard sector size for disks has been 512 bytes, to provide large-capacity drives, the storage industry is moving toward Advanced Format (AF) drives)
Automated UNMAP (can be initiated by running a simple ESXCLI command)
LUN Scalability (support for 512 LUNs and 2,000 paths)
FS 4.1 Support
Software iSCSI Static Routing Support (software iSCSI initiator and target can be on different subnets)

vSphere 6.5 Networking Enhancements

Enhancements for Nested ESXi (significant performance improvement in nested ESXi)
Dedicated Gateways for VMkernel Network Adapter!
SR-IOV Provisioning (rather than manual config)
Support for ERSPAN
Improvements in DATAPATH (support 2M page, VMKAPI lock enhancement to improve scalability of vDS,  Health-check scalability upgrades)
These and more details can be also found in this Whitepaper
Enjoy the new comparison!
Your WhatMatrix Community!
The following two tabs change content below.

Open community of consultants and analysts, providing independent views on IT trends and products - free, trusted analysis from the community, for the community ...

Latest posts by Community Author (see all)