Today we're proud to welcome a new platform to our already extensive SDS/HCI comparison line-up: Scale Computing HC3. For a proper introduction of the new HCI entry and where it differentiates itself from others, in this article we'll highlight some of the company's background as well as platform specifics.
>See the complete lineup in the up-to-date SDS & HCI comparison here
Company background
Scale Computing as a company has been around for quite some time. It was founded in 2007 and began to ship its first SAN/NAS scale-out storage product in 2009. Mid 2011 development started on the Hyperconvergence (HC3) platform, which was to combine the 3 foundational layers, being compute, storage and virtualization, into a single hardware appliance. In August 2012 the first HC3 models were released to market. Today Scale Computing has an install base of more than 3,500 customers worldwide and has more than 130 employees. The company is frequently praised for its outstanding customer support.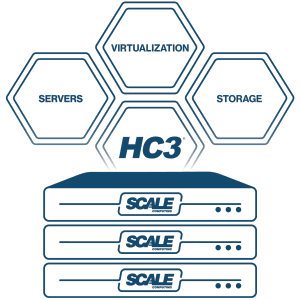 Solution architecture
If you would have to sum up in one word what the Scale Computing HC3 platform is all about, it would be "Simplicity", with a capital S. The basic premise behind HC3 is to eliminate complexity from the modern datacenter by providing an ultra-simple ease-of-use solution that can be leveraged by even the smallest organizations that have little or no full-time IT staff. For this reason Scale Computing HC3 is stack-oriented, which means that the solution was designed from the ground up to incorporate all elements required to run virtualized workloads and to provide enough intelligence under the hood to achieve near-to-zero end-user management. Clearly the main goal here is to gradually build HC3 into a full Private Cloud ecosystem, using a solid foundation.
In order to maintain a well-tuned, efficient ecosystem, Scale Computing chose to use its own proprietary HyperCore operating system and KVM-based hypervisor. The latter means that all hypervisor licensing costs are automatically negated, thus making the full-stack solution more affordable. As a consequence though end-user organizations who have adopted either VMware vSphere or Microsoft Hyper-V in the past, will have to migrate their existing virtual machines to HC3. Scale Computing offers HC3 Move to facilitate the leap. HC3 Move is powered by Double-Take and allows the migration of physical or virtual Windows and Linux-based server workloads with real-time replication and zero-downtime.
Platform strengths
To provide both a highly effective and highly efficient platform, Scale Computing developed Scale Computing Reliable Independent Block Engine (SCRIBE) as an integral part of the stack. SCRIBE runs in KVM user space and owns the full software stack, thus avoiding several software and protocol layers that are present in other platform architectures. It also allows for self-healing capabilities across the entire stack. With regard to efficiency: only 4GB of RAM has to be reserved per node for the entire HC3 system to function.

Scale Computing HC3 is able to meet most mandatory requirements. It sports multiple server and storage (magnetic-only / hybrid / flash-only) configurations, multiple use cases (Datacenter and Edge, VDI and VSI), high availability, a range of data protection capabilities (snapshots, remote replication for DR purposes, backup/restore), public cloud integration (DRaaS leveraging Google Cloud Platform), as well as always-on intelligent data deduplication. HC3 also does well at providing a unified interface for managing all the different components that make up the entire platform stack: compute, storage, virtualization and data protection.
Platform weaknesses
Scale Computing HC3's primary focus is still on SMB and Medium-sized organizations. Therefore it lacks some advanced capabilities that could be a hard requirement for the large enterprises out there. Bare-metal as well as Container platform support, GPU support in VDI use-cases, Stretched clustering, DR orchestration, native encryption and QoS mechanisms are probably the most notable omissions today. Scale Computing listens extensively to its customer base though to prioritize future capabilities on its HC3 roadmap.
Next to providing a robust native feature set, Scale Computing actively works together with technology partners to extend the capabilities of its HC3 platform by bringing joint solutions to market. With regard to 3rd party software vendors already good relationships exist with Leostream (VDI brokering), Parallels (Application and Desktop Delivery), Liquidware (workspace management), FSLogix (VDI enhancements), Google (DRaaS on GCP), Acronis (backup/restore), WinMagic (data encryption) and HyTrust (data encryption). On the hardware end the company currently partners with Lenovo (server equipment), NEC (server equipment), BCDVideo (video surveillance appliances) and APC (physical data center infrastructure). Scale Computing has stated that it is keen on expanding its partner ecosystem further so that it can deliver even more value propositions to its customers.
Concluding remarks
Scale Computing HC3 doesn't qualify as a jack-of-all trades, nor does it attempt to be. For sure HC3 cannot be labelled a one-trick pony either, as the platform's historic evolution already proves that expansion of native capabilities is both possible and happening. What it does do is stick close to its core principle: providing ultra-simplicity to end-users. And for most parts it succeeds at that, even admirably so. As it stands, it's a worthy addition to our comparison. We're going to keep a close eye on how the HC3 platform improves over time.
Please hop over to our free online comparison for a detailed view on Scale Computing HC3 by clicking here.
For the latest updates on all included solutions see our SDS & HCI "News Updates" here
Herman Rutten – Category Lead [SDS & HCI]
Follow us on twitter: @What_Matrix
The following two tabs change content below.

Herman Rutten
Technical consultant and Solutions architect with 20 years of field experience. At first focused on on-premises IT Infrastructure including enterprise servers, storage, virtualization, backup/restore and disaster recovery. Following evolutionary industry changes the scope has gradually broadened to public cloud, data security, hybrid connectivity and advanced analytics. Category Lead for the independent WhatMatrix Analyst community since 2015.

Latest posts by Herman Rutten (see all)