CloudJumper has been successfully validated by WhatMatrix. It has been added to the comparison of leading DaaS solutions and can now be selected for comparison here. Congratulations!
Meet the vendor: CloudJumper
I was excited to get the opportunity to review CloudJumper's latest version of Cloud Workspace Management Suite 5.3 for inclusion in the Desktop as a Service WhatMatrix. The most evident benefit of the product to me that I noticed right away was its simplicity. There was no need to try and figure out nuances in pricing, I didn't need to setup a network layer and security layer before I could start building and consuming virtual desktops. CloudJumper's CWMS has a simple pricing structure and calculator that shows what the true cost is and the automated setup the product provides did all of the heavy lifting for me.
I simply filled in what I wanted my end product to look like in their wizard e.g. I opted to run in Azure (They support the other major clouds also as you'll see in the Matrix), US West, I selected my OS and Microsoft Office types, provided my Azure Global Admin account, set my service account password and a few other simple things.  At no point did I need to open up PowerShell and run cmdlets or have to manually set something and validate it in Azure. It was awesome and within a few hours, I received a notification and all of my Azure resources were created for me and my desktops were ready.
CloudJumper Highlights
When reviewing the WhatMatrix feature results, you will notice that CloudJumper leverages the RDP protocol which has advanced in leaps and bounds in recent years with experts like Dr. Benni Tritsch, Rachel Berry and Bram Wolfs. This helps keep the cost of the solution down while providing an excellent end user experience. When in the administration console, you can tell how many years of work and the amount of effort that has gone into the product.
You have the ability to set and manage AppLocker policies right from the web portal. You can also enable FSLogix Profile Containers for your end users (which pretty much every enterprise owns thanks to the Microsoft acquisition) and there is automated application deployment for some of the common applications deployed by customers to name just a few things.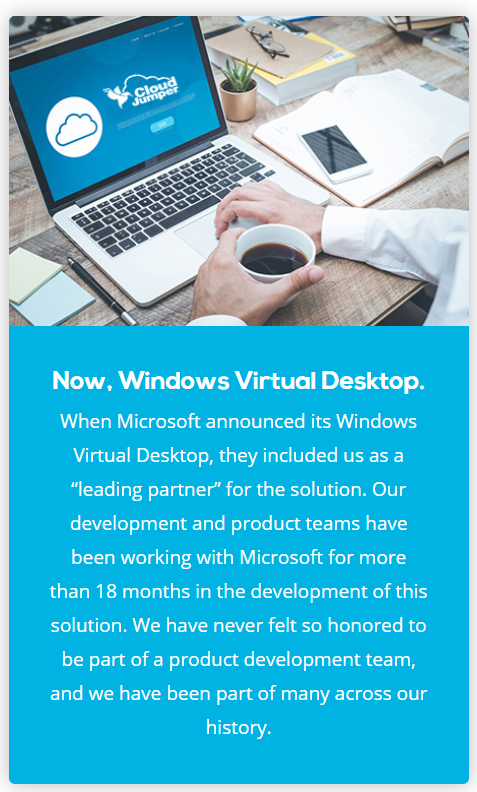 One of the advantages with CloudJumper is the fact they are cloud agnostic, and the experience administering the products on the different cloud platforms is relatively seamless and unified with its automation if you learn how to deploy and support your DaaS with CWMS, you can deploy and support DaaS in any major cloud platform.
Try it out!
Scott Manchester from the Microsoft Windows Virtual Desktop (WVD) and Remote Desktop Services team has stated that Windows Virtual Desktop will be generally available soon.
CloudJumper is partners with Microsoft on WVD and are in fact offering their product for free until January 2020 for use with the WVD public preview that is available now AND if you sign up during the preview stage, you can use it for your full tenant when WVD is GA until the Jan 2020 expiration date.
Our team plans to publish an update of this WhatMatrix with a full review of WVD once it goes GA so be sure to check back when that happens.
Rory Monaghan – WhatMatrix Lead Consultant (EUC) 
Don't miss the related EUC comparisons hosted on WhatMatrix: Application Virtualization, Application Layering, GPUs, EMM
The following two tabs change content below.


Latest posts by Rory Monaghan (see all)