Many of you asked for the capability to print or export a report for the performed comparison. The report should also include details on any improvements that have been applied using our "Stackbuilder".
Good news – you can now create and print reports directly from any of our comparison pages!
Use them as deliverable for your consultancy engagement, RFI attachment or research document.
And did we mention all of this is free …? 
The top section of the report allows you to customize header information like company, contact name and project references (not shown in picture).
The summary shows scores for 'base products' as well as scores achieved by complimentary Add-Ons the user applied using our 'Stack Builder'.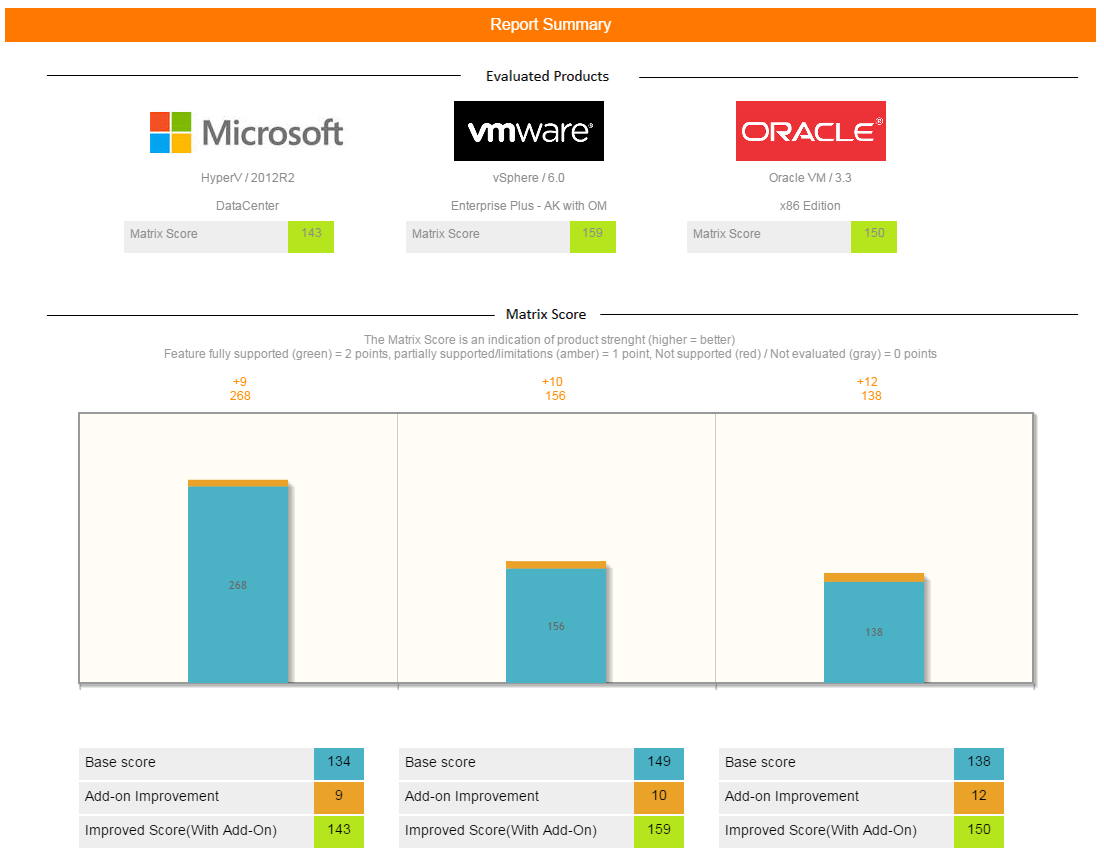 Detailed matrix scores 'by category' allow you to quickly identify "areas of strength" or weakness (i.e. a product might have the highest overall score but a particular weakness in e.g. its  'management' capabilities).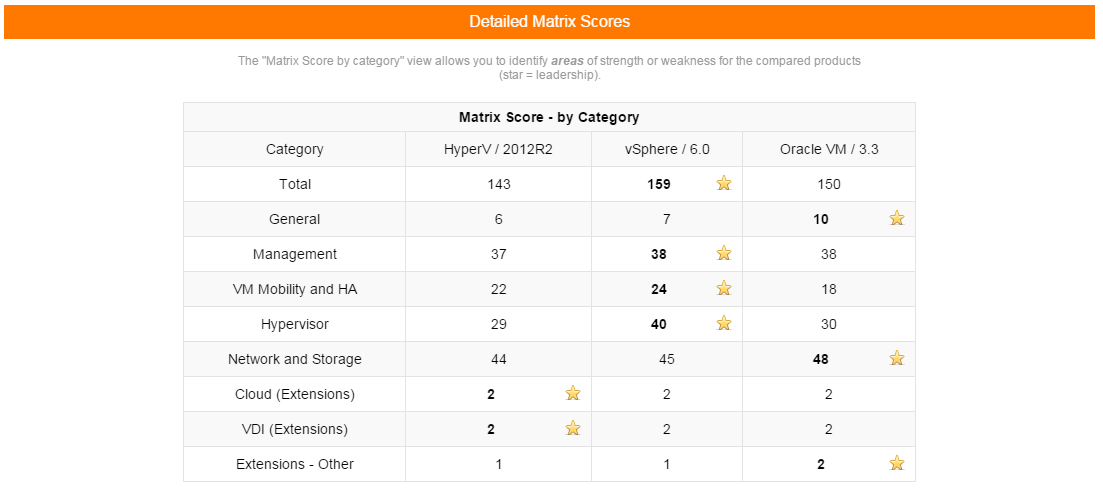 The report also contains insight in to the improvements provided by our complimentary "Add-On" products. 
What are Add-Ons?
Our consultants constantly try to identify products that can address typical limitations in their solution stacks.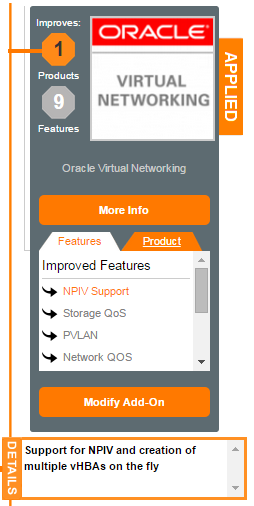 They then gather detailed technical information and integrate those products in interactive Add-On widgets. 
The site visitor can quickly identify limitations using the color coding in the matrix and apply suitable add-on products using our Stack Builder to limit or mitigate those limitations.
The report helps you visualize the level of improvement provided by the various Add-Ons. It presents you with details on which features have been improved by which Add-Ons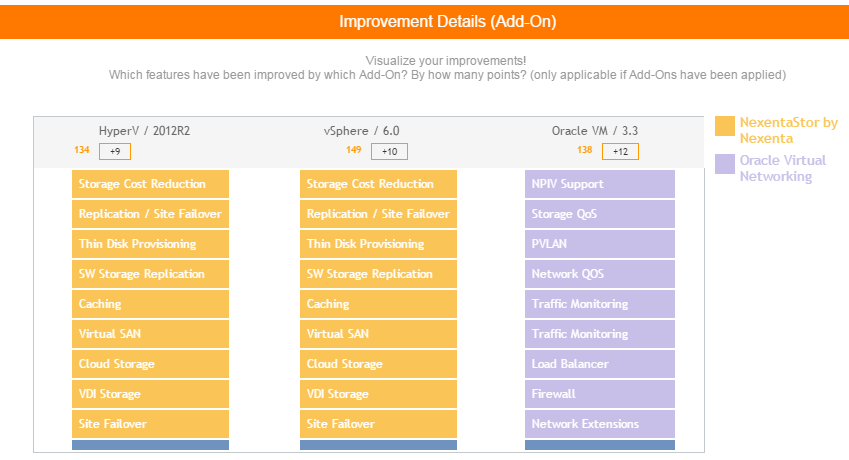 Additional charts even show you details on HOW individual features have been improved e.g. from not supported (red) to fully supported (green)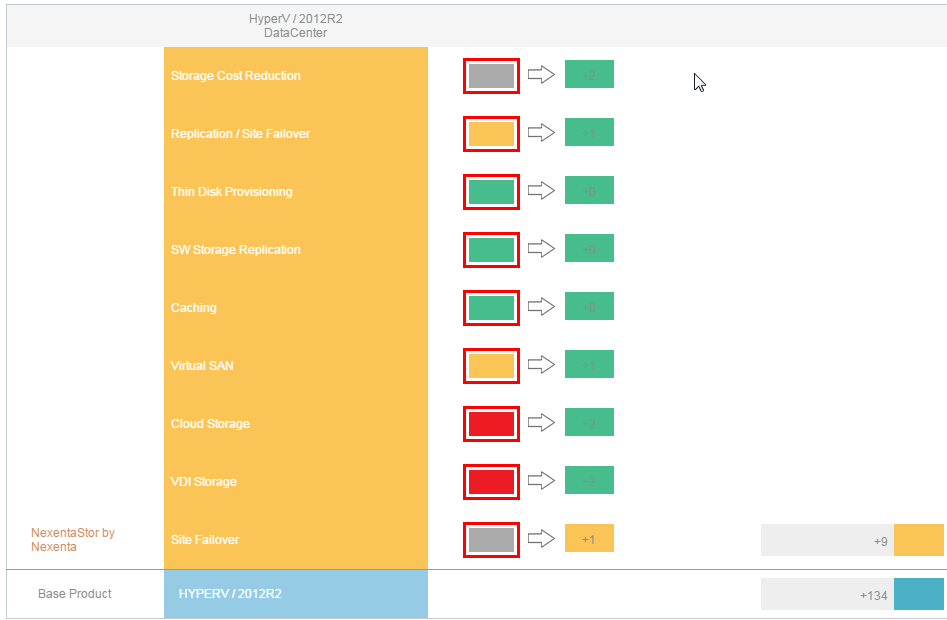 The report also allows you to append the entire matrix table for reference. See a report sample here: WhatMatrix Comparison Report Sample
We hope you enjoy the new capability!
Your WhatMatrix Community
Our comparison pages allow users to evaluate Enterprise IT products in various (expanding) categories – ranging from Virtualization technologies to Cloud Storage Gateways, Backup Products and Hyper-converged / Software Defined Storage.
The following two tabs change content below.

Open community of consultants and analysts, providing independent views on IT trends and products - free, trusted analysis from the community, for the community ...

Latest posts by Community Author (see all)