Jump here to see the up-to-date analysis of top rated SDS & HCI products 
Jump here to see the "What SDS & HCI Platform Landscape Report" (free download)
In our ongoing efforts to provide you with the industry's most current and "always-online" product evaluations for your technology decisions, the online SDS & HCI comparison has been updated with a number of recent product releases. In addition category consultant Herman Rutten has expanded the comparison with a new evaluation criteria "Stretched Cluster Data Redundancy" and introduced "HPE Simplivity" as vendor name to reflect the recent acquisition.https://weedy.com
VMware vSAN – updated to version v6.6
vSAN Encryption – Datastore level encryption (dedupe/compression efficient)
Local Protection for Stretched Clusters
Removal of Multicast
ESXi Host Client (HTML-5) management and monitoring functionality
Enhanced rebalancing
Enhanced repairs
Enhanced resync
Maintenance Pre-Check
Stretched Cluster Witness Replacement UI
vSAN included in "Phone Home / Customer Experience Improvement Program"
API enhancements
vSAN Easy Install
vSAN Config Assist / Firmware Update
Enhanced Performance and Health Monitoring
For details and further insight see e.g. Duncan Epping's blog here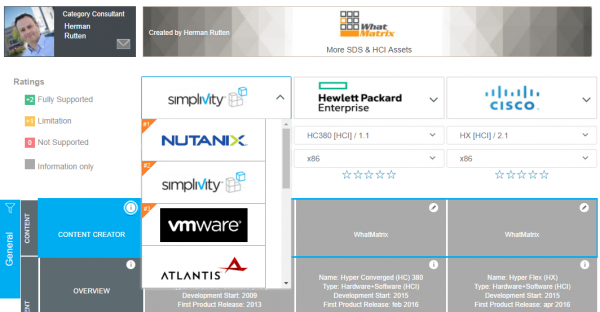 SimpliVity HPE additional hardware option (HPE ProLiant DL380) > HPE SimpliVity 380 Release Notes – HPE HC 380 1.1 Update 2 includes the following enhancements:
The HC 380 Management UI supports VMs created in VMware vCenter.
VMware vSphere ESXi Life Cycle Management software updates.
Enhanced vMotion compatibility (EVC) support.
Support of Virtual Distributed Switches (vDS) for customer production networks.
Cisco – HyperFlex updated to v2.1:
Support for Self Encrypting Drives
Enhanced Call Home Function (added option to collect support logs through https)
Support for Hyperflex Edge – See this for details on Hyperflex Edge
Ability to add Cluster To Existing Fabric Interconnects
Cluster Scaling to 32 Nodes (32 node support only for HXAF220 and HXAF240 nodes)
 Download and release notes
here
And don't forget – you can still get a copy of the detailed
SDS & HCI Landscape report
that we recently published (yes, completely free!).
The following two tabs change content below.

Herman Rutten
Technical consultant and Solutions architect with 20 years of field experience. At first focused on on-premises IT Infrastructure including enterprise servers, storage, virtualization, backup/restore and disaster recovery. Following evolutionary industry changes the scope has gradually broadened to public cloud, data security, hybrid connectivity and advanced analytics. Category Lead for the independent WhatMatrix Analyst community since 2015.

Latest posts by Herman Rutten (see all)